Bio
Istvansch (Istvan Schritter) was born in Madrid, Spain, in 1968. He is illustrator, writer and designer. His books have been published in Argentina, Colombia, Cuba, Spain, France, Mexico, and Switzerland, and his books have been translated in Korea, Italy, United States, and United Arab Emirates. His work is marked by constant exploration, in a quest that has led the Argentine illustrated-book market to open to new or little-explored formats and discourses, such as picture books, books-as-objects, or performative books
His illustration style is characterized by the use of paper and scissors: he is one of the first children's book illustrators to avail himself of paper cut in Argentina.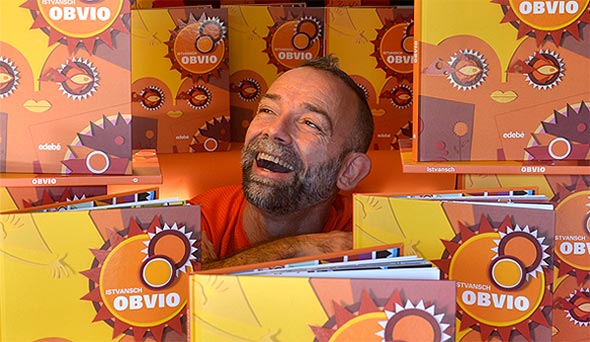 Istvansch has been awarded eight Distinctions by the Argentine Association of Children and Youth Literature (Asociación de Literatura Infantil y Juvenil de Argentina, ALIJA) on eight occasions, the first "Fantasía" Award to Argentine Children's Literature (1998), the First Mention of the "Fantasía" Award (1999), the First Mention of the "Latin American Utopia" Award at the 27th International IBBY Conference in Cartagena de Indias, Colombia (2000), the prize "Octogonal d'Honneur 2004" of CIELJ (Centre International d' Études en Litterature Jeunesse, Paris, France), and the IBBY Honour List 2015. He was nominee to the Hans Christian Andersen Award for Argentina (2002 and 2004) and to the Astrid Lindgren Memorial Award 2017 and 2018, in Sweden.
He has been selected to form part of the First Spanish-American Illustration Catalogue (Guadalajara, Mexico, 2010), the Biennial of Illustrations, Bratislava, Slovakia; the Mostra degli Illustratori, Bologna Children's Book Fair, Italy; "Le immagini della fantasia" Mostra Internazionale d' Illustrazione per l' Infanzia di Sàrmede, Italy; and the Federal Illustration Exhibitions of Buenos Aires Argentina.
His style is characterized by his meticulous work with scissors and paper. To distinguish his aesthetics, in 2017-2018, Museo Barrilete (City of Córdoba, Argentina) developed "Obras a la Mano" [Works at Hand], a gigantic ludic exhibition in which readers may interact with Istvansch's drawings.
At Ediciones del Eclipse, Istvansch created "Libros-álbum del Eclipse", a ground-breaking series of picture books in Argentina. He coordinated radio and TV shows on illustrated books. As "book performer", he has led multiple shows for children and adults in many different cities of Argentina, as well as in Portugal and Spain. In his shows, he combines live drawing, acting and storytelling on stage to communicate how to read illustrated books.
His research on illustration has led him to teach students of all levels, and to write papers and articles for specialized journals published throughout the world. His views on illustration have been gathered in La otra lectura. Las ilustraciones en los libros para niños [A Different Reading. Children's Books Illustrations, Buenos Aires, Lugar Editorial.]
Istvansch was a member of the Organizing Committee of the Argentina Children's Book Illustration Exhibitions; member of the Organizing Committee of Argentina Guest of Honor, Bologna Children's Book Fair 2008, and of Argentina Guest Country at the "16 Salão FNLIJ do Livro para Crianças e Jovens 2014" Rio de Janeiro, Brazil. He was co-curator of the International Illustration Exhibition "When cows fly…" (Bologna 2008) and curator of the Argentine Illustrators' Exhibition (Rio de Janeiro 2014).
He is one of the founders and members of the Argentine Illustrators' Forum; member of the Argentine Illustrators' Association and founding member of "Colectivo Dibujantes Trabajando", which meant public and governmental recognition of the role of "pencil workers".